Here you can create, edit and delete Systems Under Test (SUT) templates. SUT templates are a set of Performance Counters, so you can easily retrieve Performance Counters for a specific goal. As an example, you can create a default template that will retrieve processor, memory, and disk counters.
In the image below you can see an overview of already configured SUT templates.
Create a new SUT Template
Press the Create new SUT Template button.
On the Create new Template section provide the following information:

Name of the SUT Template, this can be anything to describe which set of Performance Counters you will collect with this template.
Add a template description.
Then you can retrieve the counters from a SUT machine, by clicking the Retrieve counters from machine button.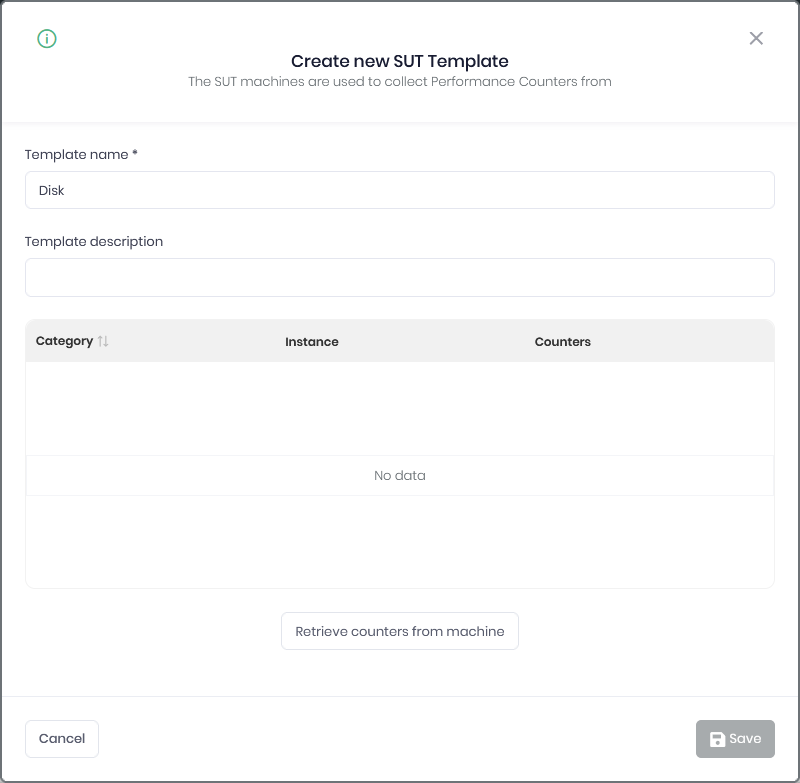 Retrieve the Performance Counters from a SUT Machine
In this step, you can retrieve the Performance Counters from a SUT Machine and select which Performance Counters you want to add to your SUT Template.
First, select the LoadGen Agent, please note this LoadGen Agent must be online.
Then you can select the SUT Machine, this is just a reference machine to collect the Performance Counters.
The final step is to collect the Performance Counters from the SUT Machine via the selected LoadGen Agent, press the Get counters button. Please note this process can take up to 5 minutes.
Now select the Performance Counters which you want to add to your SUT Template.
Press Save.
Edit the SUT Template
To edit or view the SUT Template you can click the gearbox icon in the first column of the main page of the specific SUT Template.