Release date
2023 September 28
We are thrilled to introduce our Q3-2023 release of LoadGen Suite which features a robust and efficient web testing functionality. This advanced feature has been added to enhance the productivity and ease of conducting comprehensive web application testing.
With the Q3-2023 release, you can now utilize LoadGen Load & Performance WebTesting with the LoadGen Core Agent, compatible with both Linux and Windows operating systems. Our user-centric testing capabilities include compatibility with major browsers such as Chrome, Chromium, Microsoft Edge, and Firefox, and now also including Webkit.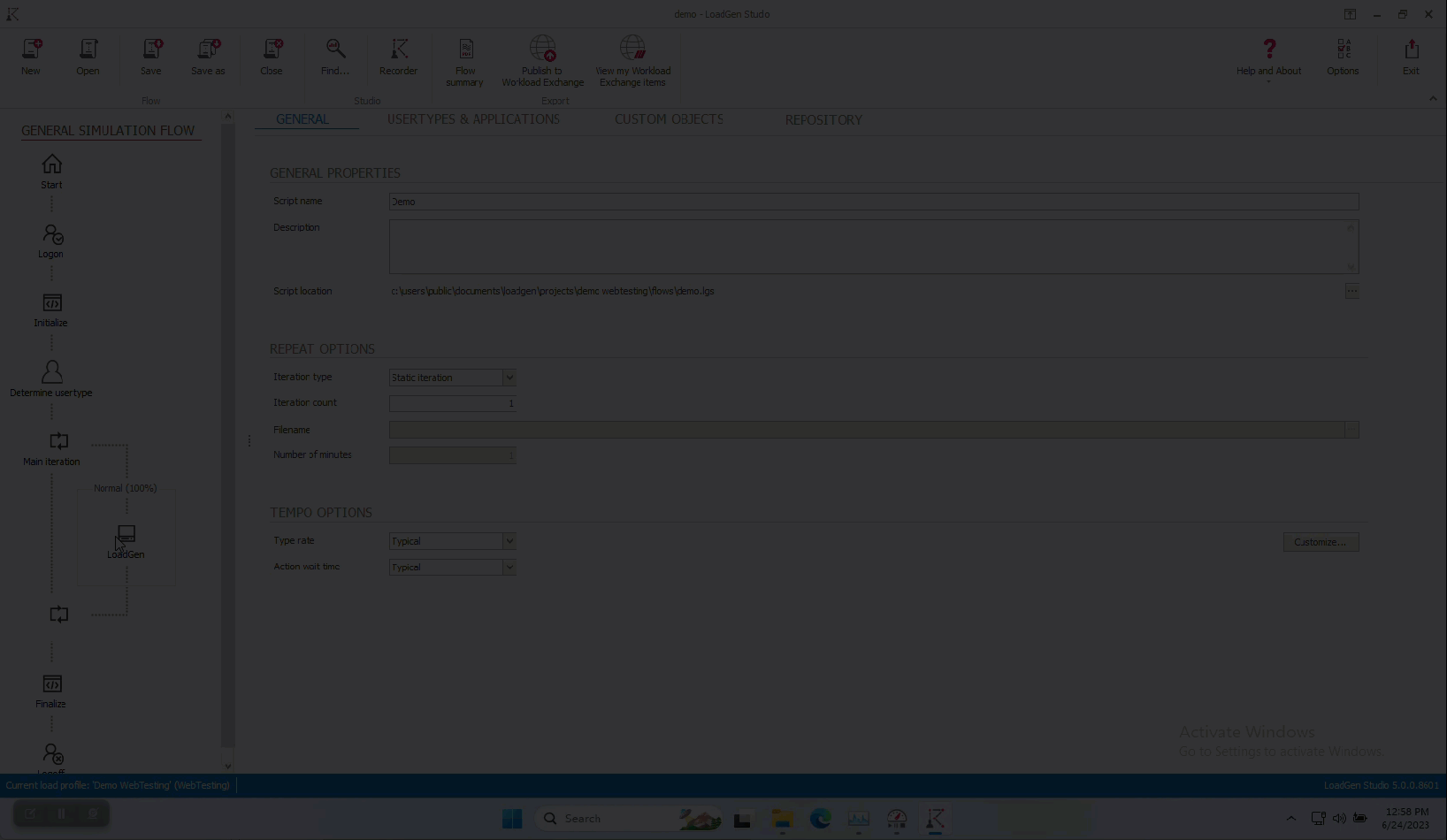 LoadGen General
Allow Separation of Core Agent: This new feature adds more versatility to your LoadGen experience by enabling the Core Agent's separation.
Add Web Testing Support powered by Playwright: In our commitment to boost your testing capabilities, we've introduced a major feature - Web Testing, powered by the renowned Playwright.
LoadGen Director
Transaction/Subtransaction Handling: Resolved issues with transactions/subtransactions handling a lot of data in WebTesting, ensuring accurate data management and representation.
SMD Updating: Fixed an issue where the SMD (Service Model Definition) was not updating correctly in WebTesting, ensuring accurate SMD representations.
SQL Data Transmission: Resolved a bug where data transmission to SQL was not functioning correctly in WebTesting, ensuring accurate data storage.
Chart Connection: Fixed an issue where charts were connecting to old tests in WebTesting, ensuring accurate chart representations for the current test.
Workload Exchange WebTesting Addition: Added WebTesting to Workload Exchange, expanding the workload testing capabilities.
User Iteration Saving: Fixed an issue where user iterations were not saved correctly in WebTesting, ensuring accurate iteration data management.
Chart Color Visibility: Resolved an issue where the chart color of the first Agent was not visible in WebTesting, improving chart readability.
NULL Record Filtering: Implemented a fix to filter NULL records in WebTesting, ensuring accurate data representation.
User Data Preservation Post Upgrade: Rectified an issue where user data was empty after an upgrade in WebTesting, ensuring data integrity post-upgrade.
LoadGen Studio and LoadGen Functional Studio
Several enhancements and bug fixes (General, User Actions, Disabling Applications).
Several styling optimizations.
Variable Action Copy Functionality: Resolved an issue in WebTesting where copying a variable action was not possible. Users can now copy variable actions as intended.
Screenshot Character Restriction: Improved the screenshot naming by forbidding specific characters in the screenshot name/optional message during WebTesting, ensuring consistency in file naming conventions.
Compile Error State Reset: Fixed an issue where a compile error in WebTesting did not reset the state correctly. The state now resets properly to ensure accurate testing sequences.
Block Execution Exceptions: Resolved issues with exceptions occurring while playing a block and running a Block in WebTesting, ensuring smooth block execution.
Datasource CSV Content Pasting: Implemented a new feature allowing users to copy-paste CSV content into an existing datasource, streamlining data input processes.
Playwright Update and Webkit Browser Availability: Updated Playwright and made Webkit browser available for testing, expanding the browser testing capabilities.
Measurement Screenshot Option: Introduced an option to disable sending a screenshot on Measurement fail, providing more control over screenshot management.
Web Regex nth Found Control Support: Added support for nth found control in Web regex during WebTesting, enhancing regex functionality.
View Screenshot Enhancement: Enabled viewing screenshots in control validation if an image is available, improving validation review processes.
Screenshot Red Area Highlight: Added a feature to highlight the area of validation in screenshots with a red area, enhancing visual feedback on validation actions.
Max Wait Time Adjustment: Provided an option to change the max wait time, offering better control over wait time configurations.
Image Validation Disappearance Option Fix: Fixed an issue with the image validation disappearance option, ensuring it works as intended.
Send Screenshot Functionality: Rectified an issue where the SendScreenshot function was not working correctly in WebTesting, ensuring accurate screenshot transmission.
If you receive this error: Unable to load one or more of the requested types, retrieve the LoaderExceptions property for more information. Could not load file or assembly 'System.Data.SqlXml'. Please read this article.
LoadGen Analyzer
Several enhancements and bug fixes.
Several styling optimizations.
(Sub)-Transaction Including Wastetime in User Charts: A new feature has been added to include (Sub)-Transaction along with Wastetime into user charts. This update aims to provide a more detailed insight into the transaction times and wastage, allowing for a better understanding and analysis of the test results.
LoadGen Configurator
VC Runtime Detection: Resolved an issue where the VC Runtime was not detected when already installed, ensuring accurate system configuration.
LoadGen Agent
E2E Username Handling: Resolved an issue where a username with a space resulted in an incomplete test. The usernames are now handled correctly to ensure accurate testing results.
WebTesting IP Address Transmission: Fixed a bug that hindered the sending of the IP address of the Agent during WebTesting. The IP address is now sent accurately to ensure proper connectivity and data transmission.
Core Agent Session Support: Enhanced the Core Agent to support more than 50 sessions simultaneously, improving the scalability of testing operations.
WebTesting Compile Error Indicator: Fixed a bug where a compile error didn't give a visual indication during the test. Now, any compile error is visually indicated to provide immediate feedback.
LoadGen Core Agent
Multiple Display Settings Support for Linux: Added support for multiple display settings on Linux, enhancing the Core Agent's flexibility on different operating systems.