The LoadGen Agent is a Windows Service that will launch the different test user sessions. For Citrix Virtual Apps and Desktops, Citrix XenApp, Citrix XenDesktop, Microsoft Remote Desktop Services, Microsoft Azure RemoteApp, Windows Virtual Desktop, and VMware Horizon the LoadGen Agent can launch multiple user sessions to the backend IT environment. When you use the LoadGen Agent in combination with a Fat Client (Windows 7, Windows 8, and Windows 10) it is capable to launch one simultaneous session each time.

You can let the wizard install the LoadGen Agent software on the local machine or remote machines, but you need to provide (local) administrator credentials to connect to these machines. Once installed, you can use the LoadGen Agents in your tests and uninstall them from the LoadGen Director.

To manage your LoadGen Agents, double-click on the LoadGen Agents icon:
You have two lists:

On the left: Available LoadGen Agents.
On the right: the LoadGen Agents in use by this profile.
To add an available agent to your test, drag the agent from the list on the left to the right.

You also have the options to Add, Edit, or Manage your agents.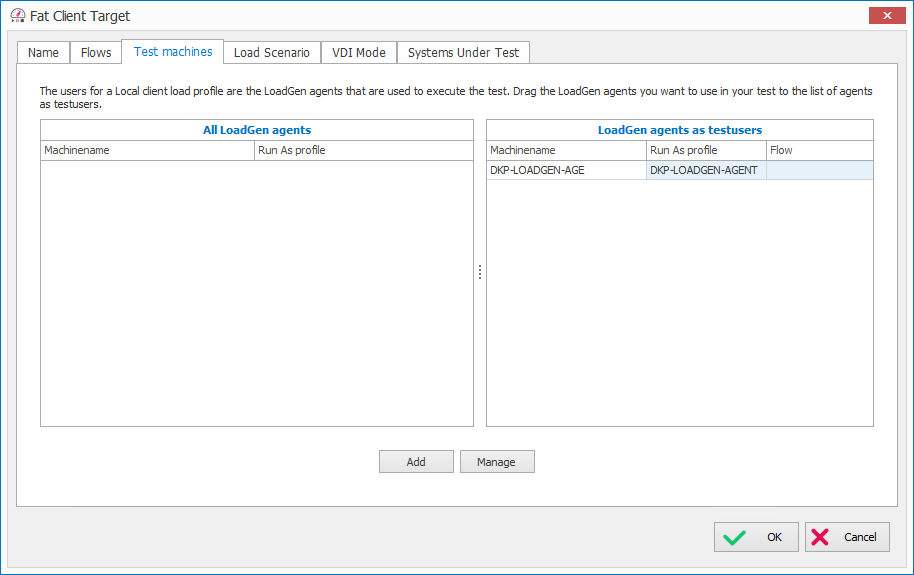 When you click on Manage you will open a new window with an overview of your LoadGen Agents. This is where you can control your LoadGen Agents.
Update after LoadGen updates
When there is a LoadGen update and you perform the update, you must also update your LoadGen Agents. Just click on install and the agents will be updated to the latest version.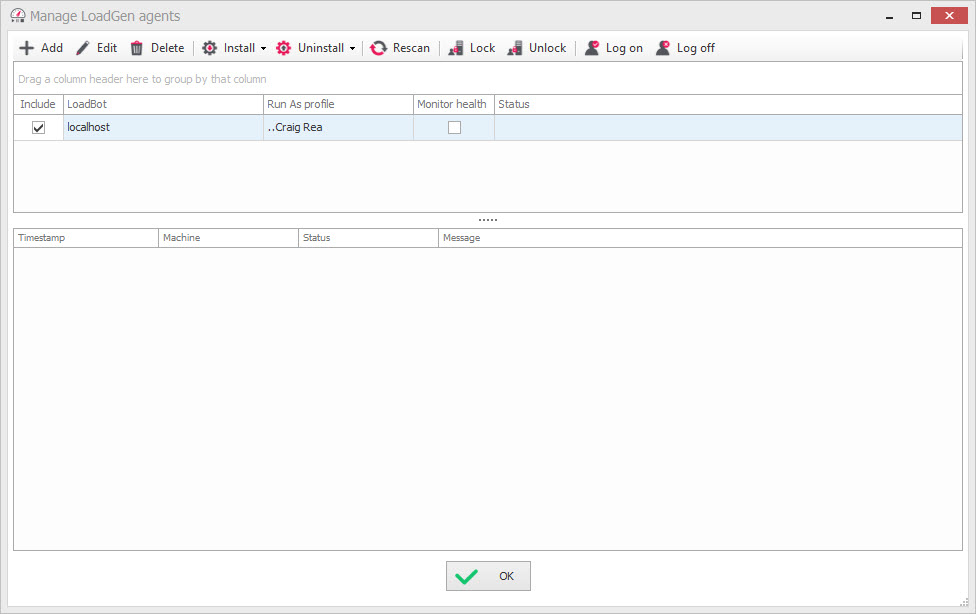 When clicking on Add will open the LoadGen Agent Wizard, enter the machine name you wish to add, and select the Run as Profile for this machine (credentials to log in to this machine).