Issue description
The Citrix Virtual Apps and Desktops release 7 2109 restrict the use of custom Virtual channels. As read in the release notes of the Citrix Virtual Apps and Desktop release 7 2109 the following can be found:
Virtual channel security update
The Virtual channel allow list is now enabled by default. To use custom or third-party virtual channels, you must manually add them. For more information, see Virtual channel security.
Solution
Follow this article to allow a
single Virtual channel
, or follow these steps to enable all the Virtual channels:
Start the Citrix Studio.
Open the Policies page.
Create a new policy or open your default-defined policy.
In the Search box search for virtual.
Press Select or open the Virtual channel allow list policy.
When the policy is opened change Enable to Disable.
Press OK.
Force restart your VDI or hosted desktop machines.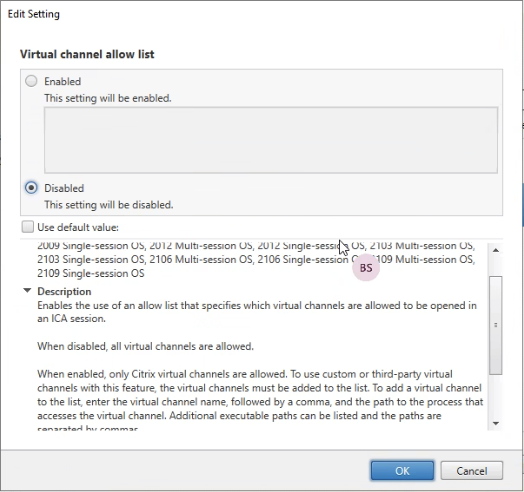 Adding virtual channels to the allowed list
To add a virtual channel to the allow list, you need the following:
The virtual channel name, defined in the code, can be up to seven characters long. For LoadGen use: UAI.
The paths to the processes that open the virtual channel on the VDA machine. For LoadGen use: C:\Program Files\Application\run.exe.
Once you have the required information, you must add the virtual channel to the allow list using the Virtual channel allow list policy setting. To add a virtual channel to the list, enter the virtual channel name followed by a comma, and then the path to the process that accesses the virtual channel. If there are multiple processes, these can be added and separated by commas.
LoadGen UAI virtual channel
This information is required for the allowed list entry:
Virtual channel name: UAI
Process: Path to the LoadGen UAI process: C:\Program Files (x86)\LoadGen\LoadGen ServerAddin\LoadGenUAI.ServerAddin.exe
Allow list entry: UAI,C:\Program Files (x86)\LoadGen\LoadGen ServerAddin\LoadGenUAI.ServerAddin.exe